Neck/shoulder/head Pain - Causes
There are a number of structures within the neck that are capable of causing pain when stressed or damaged including the bones, discs, muscles, ligaments, joints, nerves. Pain in the neck can move to other parts of the body ( head, shoulder, arm) due to nerve entrapment or as referred pain.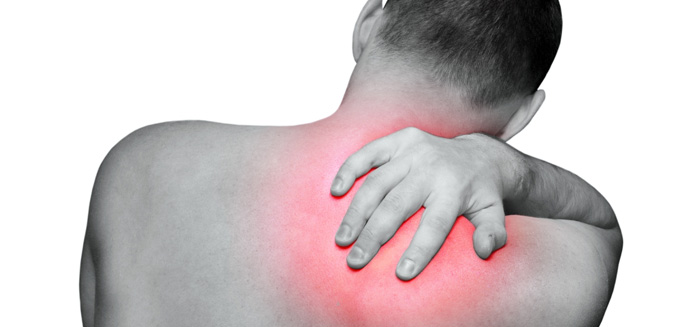 Neck / Shoulder/ Head Pain Patterns
Degenerative changes with the neck can present in a number of ways:
Neck pain only
Neck Pain with shoulder pain
Neck pain with arm pain
Neck pain with head pain
Neck/shoulder/head pain - Clues
The pattern of pain can give us clues to the likely cause of the pain symptoms.
Neck pain that moves to the arm or hand is typical of a nerve entrapment syndrome usually at the base of the neck due to disc prolapse or spine degeneration.
Neck and shoulder pain is either nerve entrapment higher in the spine or facet joint osteoarthritis. 
Neck and headache symptoms usually represent problems high up in the neck with entrapment of the occipital nerve (occipital neuralgia).
Neck/ shoulder/ head- Muscles and Posture
People with chronic neck/shoulder/head symptoms develop marked changes in their posture, and marked muscular changes. This can lead to chronic stiffness within the muscles, with tender points within the muscle (trigger points) which can add to the severity of the pain symptoms.
Diagnosis
Cervical spondylosis - is the term used spine degeneration, causing neck/shoulder/head pains

Cervical radiculopathy - is the term used for arm pain due to nerve entrapment with the spine.
Myofacsial pain - is the term use to describe pain originating in the muscles

Occipital neuralgia – headache from the back of the head that extends to the top
Investigations
X-rays – identifies degenerative changes within the neck
Ultrasound scan – can be useful if pain thought to originate from the shoulder itself.
MRI scan – can identify disc prolapse and degeneration in the spine
Nerve conduction studies – used to identify the location of nerve compression (Spine vs Arm).
Treatments
Physiotherapy
Acupuncture
Cervical radiofrequency denervation – treats spinal arthritis
Occipital nerve blocks – headache treatment
Cervical epidural
NEED TO SPEAK TO OUR CONSULTANT?
CALL US NOW! 07803 559 091